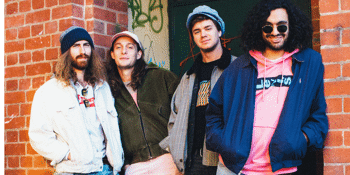 Four Tone Artists presents
Death By Denim
The Bearded Lady (West End, QLD)
Thursday, 5 December 2019 7:30 PM
Death By Denim have announced their biggest Australian tour to date under. Having already been on the road twice in 2019, the band is signalling its maturity and growth with a healthy 10 show touring schedule around the country this summer.

Kicking off on November 22, the tour will see DBD return to play for their fans in Bunbury, Perth, Sydney, and Brisbane whilst also taking their live show to Adelaide, Manly, Cooggee, Byron Bay, and the Sunshine Coast for the very first time.

The tour will be in support of the band's much anticipated sophomore EP "Year Long Minute", which will drop in November.

The last DBD tour saw the band sell out shows around Aus and earn a spot as a Triple J Unearthed feature, don't miss your chance to see the boys on stage this summer.